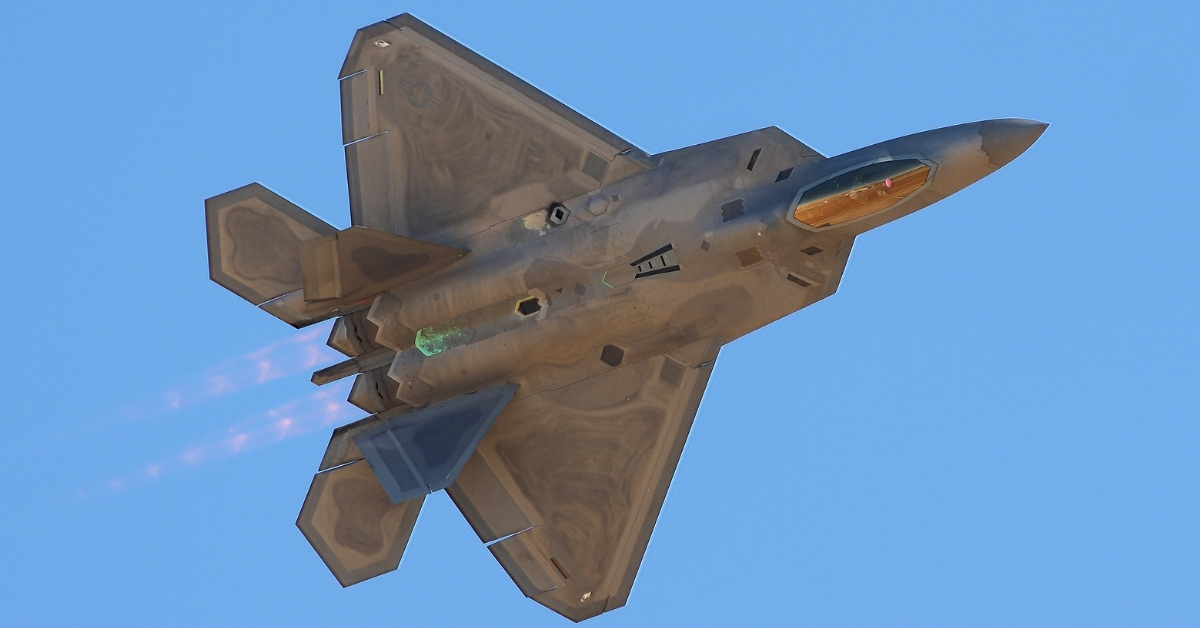 In 2021 so far, the top 10 aircraft manufacturers are Lockheed Martin, Airbus, Boeing, Raytheon Technologies (fka United Technologies), Northrop Grumman, General Electric, Safran, Leonardo, Bombardier, and United Aircraft Corporation.
It's been a tough year for aircraft manufacturers, given that air travel has significantly dropped over the past year in light of the Coronavirus pandemic. However, these top 10 companies have managed to keep going, and have maintained their spot as some of the world's best.
Continue reading to find out all the basic facts about these aircraft manufacturers, including how much they're making in revenue, their most popular models, and much more! Our rating takes into account a number of factors including the company's opportunity for growth in 2021 and how prominent they are in the aircraft industry.
Lockheed Martin F-22 Roptor
1. Lockheed Martin
A long-time giant of the air industry, Lockheed Martin is likely the #1 position for aircraft manufacturers in 2021, due to their massive revenue.
In 2020, they made an estimated $65.4 billion USD in revenue. Even in spite of the pandemic, this is still their largest year of revenue to date.
Lockheed Martin is an aerospace and technology company, who as well as making aircraft, also specialize in military-grade security, with around 78% of their annual revenue is derived from US military contracts.
They do not make commercial aircraft - only military and security aircraft.
Their most prominent models are the Lockheed SR-71 Blackbird, built-in collaboration with NASA, and the F22 Raptor, which is exclusively used by the US air force.
The SR-71 is one of the highest-flying planes to have ever been built - i.e., it can fly at a much higher altitude than standard military aircraft. They also built the first-ever 'stealth' aircraft, the F117, also known as the 'nighthawk'.
The company has approximately 114,000 employees as of 2021, and delivers approximately 500 aircraft to buyers per year.
One of its most popular models, the F-16, has an average lifetime of around 8,000-10,000 flight hours.
Lockheed Martin plans to continue to expand the production of the F-35, one of their most popular models in 2021 which services 13 nation's air forces, after winning a $2.5 billion contract in June 2021, despite complaints that the model is too expensive to keep running.
Airbus A-380

2. Airbus
Airbus SE is a European company and the world's biggest airliner manufacturer. They also manufacture military aircraft and helicopters, though the vast majority of their business dealings are in commercial airliner manufacturing.
They began exclusively as an airliner company, though began to manufacture military-grade aircraft in the 1990s.
For a long time, Boeing was the biggest company manufacturing airliners, but Airbus SE has overtaken them in recent years.
The company is largely based in France, though also has offices and production lines all across the world, including in Canada and The U.S.
The first-ever digital fly by wire airliner plane was manufactured and sold by Airbus, hence why they are one of the best-renowned companies now for making airliners.
Fly by wire means having an electronic interface for the pilot instead of manual controls.
Airbus made approximately $78.9 billion in revenue in 2020, though some of these sales are expected to have dropped off slightly in 2021 due to the lack of airliner requirements during the pandemic.
In 1972, Airbus released the A300, which was the first aircraft to have the digital fly-by-wire interface, as well as a double engine and double aisle within the aircraft.
The A320 was built shortly after using a similar design, and this model is still one of the world's most popular airliner aircraft to this day!
This model has an approximate lifespan of around 120,000 flight hours. It is also considered to be one of the safest models of airliner in the world, given its long and reliable history of flying.
Other models of theirs which have 0 recorded passenger fatalities are the A350 and the Airbus A380.
As of 2020, Airbus SE have approximately 131,000 employees across the world. Their 12,000th aircraft to ever be manufactured was given to the American airline Delta Airlines in 2019, and they average at around 20 aircraft per month currently, largely due to the pandemic.
They intend to at least double this number by Q4 as travel begins to pick up again following the relaxation of Coronavirus restrictions.
Boeing 747
3. Boeing
Perhaps one of the most recognizable names in the aircraft manufacturing industry, Boeing is an American corporation that sell commercial airliner aircraft as well as weapons systems, satellites, and rockets.
In 2020, Boeing had a revenue of approximately $58.16 billion, and has over 143,000 employees across all locations.
They began in Seattle by William Boeing in 1916, and quickly became one of the biggest airliner companies around.
In 2018, it was the second largest defence contractor on the planet. It also exports more than any other company in the United States.
Boeing is well known for their 747, 737, and other Dreamliner models, which are among some of the most popular airliner models in existence.
Unfortunately, in 2017, the 737 models were all grounded as a result of two fatal crashes. They have since fixed the issues with this model and are now flying again.
Since then, the company hasn't been on top of the airliner industry in the same way they used to be. Despite the crashes, they do have other models which have had zero passenger fatalities - the ever-popular 747, and the 787 Dreamliner, for instance.
Sadly, in 2021, the company began to slow the production of the 787 due to forensic investigations into the quality of the planes. There have been multiple reported issues with the model, such as electrical problems and gaps around the forward pressure bulkhead.
Despite this, the company continues to push on in other areas in order to maximize revenue in 2021. They have just sold a new fleet of 737 aircraft to the British airline company, Ryanair, after a few months of delay.
With travel now picking up again after pandemic restrictions are being lifted, they're likely to continue building back their reputation in the coming year.
4. Raytheon Technologies
Another US based aerospace and military defence company, Raytheon, is based in Massachusetts. In 2020, the company merged with United Technologies. Their 2020 revenue was $56.68 billion.
It has approximately 180,000 employees, one of the highest among any of the aircraft manufacturers mentioned in this article. According to reports, over 60,000 of these employees are engineers, which is set to see them grow potentially bigger than some of the other companies on this list.
Its most prominent customer, like many of the aircraft manufacturing companies on this list, is the US military. The company manufactures a variety of goods including military aircraft, cybersecurity methods after their acquisition of Websense, components for weapons, and much more.
One of Raytheon's most interesting and notable qualities isn't actually the aircraft that they manufacture, but their unparalleled diversity training.
Following the Black Lives Matter protests in 2020, Raytheon Technologies implemented a strict training for all employees which relied on critical race theory and educated employees on how to check their privilege.
In a radical move, it also saw them support the defunding of the police in America and reparations for slavery.
Following the merger of Raytheon Company and United Technologies, the Raytheon Technologies company no longer makes entire aircraft.
Most of its role, however, does involve engineering systems and engines to develop aircraft, particularly in a military setting.
At the minute, this mostly focuses on making aircraft more sustainable, as air travel is currently one of the most heavily polluting industries on Earth.
The company is currently pouring its efforts into creating GTF engines with better fuel economy, as well as the creation of a hybrid engine plane which uses half electricity and half fuel to travel.
They're also working on creating an efficient 'sustainable aviation fuel', a form of biofuel which will be used exclusively for powering aircraft. This is particularly pressing in the commercial air travel industry, as the huge airliners require an incredible amount of fuel.
5. Northrop Grumman
Northrop Grumman is a well established military aircraft manufacturer based in Virginia, United States, and sells both aircraft and weapons.
The company operates multinationally and sells to over 25 allied militaries worldwide. In 2020, the company had a revenue of $36.7 billion. Typically, they average around $30 billion per year.
Northrop has over 90,000 employees, falling a little short compared to the giants such as Boeing and Lockheed Martin.
On eight separate occasions, they have been the recipient of the Collier Trophy, which is presented by the National Aeronautic Association for achievements in aeronautics and aircraft. This is an impressive feat considering the company was only founded in 1994!
One of these was for the Grumman X-47B, the first unmanned and autonomous aerial vehicle to be used in the US Navy.
The most exciting project on Northrop's horizon at the minute is the development of the B-21 Raider, in association with the US Air Force. It is a heavy bomber vehicle which will be able to drop bombs from long range.
It is also anticipated to be able to carry nuclear weapons as well as standard bombs.
Recently, they have also begun working on a "hypersonic weapons centre of excellence", which will be a new factory in its Elkington, Maryland location which sees the design, production, and correct installation of hypersonic missiles and other weapons.
They also recently signed a contract with NASA to explore a fairly experimental studio apartment, complete with enough space for three aircraft, which will go into the Earth's orbit.
6. General Electric
GE Aviation is based near Cincinnati, Ohio, and boasts a small 48,000 employees. It is a part of the General Electric family, which is also known for making cars and home appliances.
In the 2020 financial year, GE Aviation made a revenue of $22.04 billion USD. General Electric Aviation do not make their own aircraft, however, they do supply engines, computers, and much more to the big aircraft manufacturers.
This means that their customers include many of the other companies on this list - Lockheed Martin, for instance, and Airbus.
The vast majority of their revenue is derived from making engines for commercial airliner planes. One of their most notable inventions is the GEnx, a commercial engine designed specifically for the Boeing Dreamliner range (the 747 and 787). It is also their fastest selling engine ever designed!
Other popular models of engine by General Electric Aviation include the GP7200, built in collaboration with Raytheon Technologies, which provides the Airbus A380 with the most fuel efficient engine currently available on the market.
They are also heavily present in the military side of aviation, however. Similar to their work on commercial engines, they manufacture jet engines to be fitted into military aircraft.
Some of their latest and best work includes the invention of the Adaptive Cycle engine, which allows military aircraft to travel further, quicker, and longer. The airflow within the engine changes automatically according to the pilot's flight style at any given moment.
In a similar way to their competitor Raytheon Technologies, General Electric Aviation is also looking to fix the issue of a lack of sustainability within the commercial airline industry. They are currently looking to develop their own sustainable aviation fuel.
7. Safran
Safran is a French company whose revenue in 2021 thus far has been $19 billion. This is a little smaller than most of the other competitors in this list, though Safran have still done pretty well for themselves, standing up to the potentially oversaturated American market.
The company is the result of a merger between SNECMA, an aircraft manufacturer, and SAGEM, a security firm, in 2005. They now no longer manufacture their own aircraft frames, but instead focus on engines, avionics, airplane interiors, electrical systems, and much more.
Safran SA is considered a world leader of navigation systems for both commercial airliners and military aircraft.
The company employs around 81,000 people, making it a fairly mid-range company on this list.
Most recently, Safran won a contract with Singapore Airlines to outfit their fleet of Boeing 777-9 fleet with carbon brakes and wheels. The French army currently uses 390 of Safran's unique M88 engines.
One of the most interesting things about Safran is that they are specialists in interiors as well as engine and systems components, unlike many of the other companies on this list.
For instance, the Boeing 777-200LR which is currently being used by Crystal AirCruises, has an interior entirely designed by Safran SA, right down to the in-flight entertainment systems!
Eurofighter Typhoon

8. Leonardo
Leonardo Company hails from Italy, and in 2020, had a revenue of 13.4 billion Euros. They are a multinational company, though remain mostly based in Italy.
In 2018, Leonardo was the eighth largest military contractor in the world. Founded in 1948, making them one of the oldest corporations on our list of top 10 aircraft manufacturers, the company has around 50,000 employees to date.
This company designs and manufactures commercial and military aircraft, as well as helicopters.
The company built the Eurofighter Typhoon, a military fighter jet, in collaboration with Airbus and BAE systems. As of 2020, there were just over 500 of them in the world. They are used primarily by European militaries such as the British Army, though also have some customers in the Middle East, including the armies of Kuwait and Saudi Arabia.
They also specialize in cyber security, working with governments and high-level corporations to install security equipment, computers, control panels, etc.
Leonardo even provides exclusive flight training for both their Eurofighter and helicopters - this is something which specifically sets them apart from their competitors.
Like many of the aircraft manufacturers on our list, they also provide space services, such as satellite technologies, parts for Mars rovers, and laser transmitters.
Bombardier
9. Bombardier
Bombardier is perhaps one of the most well-known names in aviation and aerospace, despite operating at a much lower revenue than the majority of the other companies listed in this article.
The company's revenue totalled $6.5 billion in 2020. They are a Canadian company who formerly manufactured a wide variety of transportation, such as trains and commercial airliner aircraft.
However, the company now primarily focuses on building business/private jets, making them a unique company in comparison to their peers who mainly focus on military or commercial aircraft design.
Strangely, Bombardier started life as a snowmobile manufacturer, and gradually worked their way up until they began designing and producing buses, trains, airliner planes, and military ground vehicles.
In recent years, one of their most prominent aircraft efforts has been the C-series commercial airliner plane. The aircraft had a rocky few years, however, failing to meet demand and being accused of selling below market price due to Canadian government subsidies.
Following this, Airbus took on the design after acquiring a 50.01% stake in the model, and they now own the aircraft. It has been renamed the Airbus A220.
The company's efforts now lay primarily in their private jet business. They have three main jet 'families' - the Global, Learjet, and Challenger, all of which are top sellers in the private jet industry.
Earlier this year, Bombardier announced that they would retire from manufacturing the Learjet, their smallest jet, as the market demand for them was no longer there. The wealthy are now buying bigger jets, meaning they will focus on their Global and Challenger models.
Tupolev
10. United Aircraft Corporation
Perhaps the most controversial airline manufacturer on this list is the United Aircraft Corporation, a state-owned Russian firm that produces military and commercial aircraft.
In 2018, their reported revenue was $6 billion. There have not since been any figures released, though it is suspected that they are still a giant within the world of aviation and aerospace.
The company has 100,000 employees, and the vast majority of its military aircraft are made exclusively for the Russian military. However, they do also supply to the Chinese army.
Their first commercial plane to ever fly was the Sukhoi Superjet 100, which was a joint project with Boeing and Sukhoi.
Despite the various sanctions placed on Russia by other governments in the West, the United Aircraft Corporation remains relatively unaffected and continues to sell its commercial and cargo aircraft to Western nations and companies.
For instance, one of its major clients is DHL, which use the Tupolev Tu-204C for the bulk of their international cargo shipments.
In July 2021, the company teased a new military aircraft via their Twitter account, which is said to be a major international competitor. Strangely, the corporation announced it via a 'meme' which involved an image from the TV show The X Files.
Reportedly, with the backing of funds from a UAE investment firm, they are also working rapidly to develop a supersonic commercial airplane which will rival the original Concorde. They'll have to develop it fast, though, as there's hot competition from competing companies such as Virgin Galactic.
Final Thoughts
Our top 10 wasn't necessarily ordered by revenue, as is evident by the fact that Airbus had a higher revenue than Lockheed Martin, for instance, but instead takes into account a number of factors including how many aircraft are being produced and how many employees the company has.
In the wake of the Coronavirus pandemic, the vast majority of the corporations and businesses on this list have been operating at a loss. Most countries have banned or limited travel in some form since March 2020, and while the world is beginning to open up again, the travel industry won't get back on its feet properly until at least 2022.
Our top pick was Lockheed Martin due to its impressive portfolio and huge revenue, mainly thanks to its military dealings. The company making the largest amount of commercial aircraft per month/year is Airbus, who average just over 800 planes per year, while Lockheed Martin are probably the biggest manufacturers of military-grade aircraft.
Please check out our most popular articles: Top 10 Biggest and Busiest Airports in the World in 2021
Top 10 Biggest Airlines In the World in 2021

Written by: Click2refund